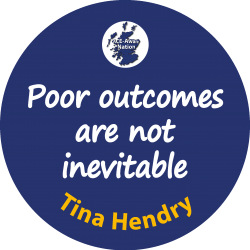 Invited guests:
Karyn McCluskey, CEO Community Justice Scotland
Jade Kilkenny, Friend
Stuart Robertson, Volunteer at ReAttachment
Tina Hendry has been one of Scotland's most vocal ACEs Campaigners.  She was talking about adverse childhood experiences long before there was a Scottish ACES movement, and she had a massive impact on the spread of awareness of ACEs science across the country.  She brought both professional knowledge of trauma, from her time as a police officer, and also personal knowledge, as a kinship carer.  Tina's death in February 2020 from cancer came as a great loss to the Scottish ACEs community.  This Conversation is intended as a memorial to her.  We will hear from those who worked with her, who benefitted from her kindness and who joined her in her efforts to educate the public about ACEs.  The photo we have chosen features the badge that carries her signature quote: "Poor outcomes are not inevitable."  This quote badge was amongst other badges at the 2018 ACE Aware Nation Conference, and images of that badge appeared across social media to mark her passing. It seems very fitting to feature it as the image for this memorial event.