This unique two-day event was hosted by two independent Scottish organisations: connected baby and TIGERS.
Our vision was born out of our enthusiasm for tackling Adverse Childhood Experiences across Scotland.  Both of our organisations have been working for the past several years to embed ACE Awareness in our own policies, practice and amongst our partners.  We know we are only two of many organisations who have been working to do just this.   We feel privileged to be part of such a movement.  Our decision to host a national conference came out of our wish to help further the public discussion of ACES.
Our vision was to have an event that everyone could attend and discover the part they have to play!  That includes grassroots and public sector, parents and professionals, business owners and policymakers, individuals and organisations.  We wanted to bring as many people as possible together to take part in the conversation.  Creating an ACE-Aware Nation is not just about changing policy.  Its about changing our culture!
When we wrote in 2017 to Dr. Nadine Burke Harris to ask if she would consider coming as an invited Keynote Speaker – and she said YES! – the planning for the event began in earnest!
Let us tell you a little bit more about us:

connected baby was founded in 2014 by Research Scientist and Developmental Psychologist, Dr. Suzanne Zeedyk.  Her aim in founding connected baby was to bring an understanding of what she calls the 'science of connection' to the wider public.  Human beings have a biological need for emotional connection.  To be health and happy, we all need to have a sense of belonging.  Instilling a sense of connection should be at the heart of all our public policies.  Our personal lives benefit from attention to connection too!   connected baby works to create opportunities to spread that message, by hosting events and creating resources illuminate the science of connection.  That made an ACE-Aware Conference irresistible for our team!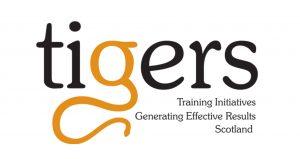 TIGERS was formed in 2001 to provide training and employment opportunities for young people.  The company is now led by Pauline Scott, who is immensely proud of the 40-strong TIGERS Team.  The formal name 'Training Initiatives Generating Effective Results' reflects the gap that the founders perceived in the employment market, where high-quality training programmes could be linked with a vibrant portfolio of employers who wanted to service their business needs through emerging new talent.   The uniqueness of TIGERS is demonstrated in the 'cradle to grave approach', that enables identification of both clients and young people keen to place relationships at the heart of sustainable employment.  Over the last few years, TIGERS has been working hard to embed an understanding of Adverse Childhood Experiences at the very heart of their policies, practices and partnerships.  The results of those efforts has been stunning and delightful – for our own staff, for our young people, and for our business partners.  When the opportunity came along to co-chair this conference, we could not possibly have said no!